The overall diversity and richness of native species and communities in NSW remains under threat of further decline.
Why native animals are important
NSW has a rich biodiversity, much of which is recognised as being internationally significant. Shrinking distributions of species of mammals, birds, fish, reptiles and amphibians can indicate early that their populations are decreasing. Declines in population of many species have been under way for decades or longer but have largely gone unrecorded. Over the past three decades, heightened awareness of the plight of native fauna has revealed the extent of population declines and the threats that cause them.
Aboriginal people attribute tremendous spiritual, cultural or symbolic value to many animals, plants and ecological communities, a value that is critical to identity and relationship with Country. The protection of these species and communities is fundamentally important in maintaining Aboriginal culture, language and knowledge.
NSW indicators
Indicator and status
Environmental
trend
Information
reliability
Native terrestrial mammals: Loss of long-term distribution over the past 200 years

Stable
✔
Native birds: Loss of long-term distribution over the past 200 years

Stable
✔
Proportion of vertebrate fauna species that is presently non-threatened

Getting worse
✔✔
Birds: Decline in populations – short-term (decades)

Getting worse
✔✔
Native fish communities

Getting worse
✔✔✔
Large kangaroos: Population

Stable
✔✔✔
Status and Trends
A pattern of long-term decline in biodiversity is seen in the reduced range or abundance of many native vertebrate species. At the same time, many species less susceptible to current pressures have maintained their distributions, while a small number of adaptable species have flourished.
Over the past 200 years, birds have been more resistant to declines in range than mammals, which have experienced substantial declines, especially small- to medium-sized ground-dwelling species. However, over recent decades there is evidence that populations of some bird groups are declining.
Spotlight figure 12: Population health index (PHI) ratings for 28 native fish species in the NSW part of the Murray–Darling Basin in 2014–19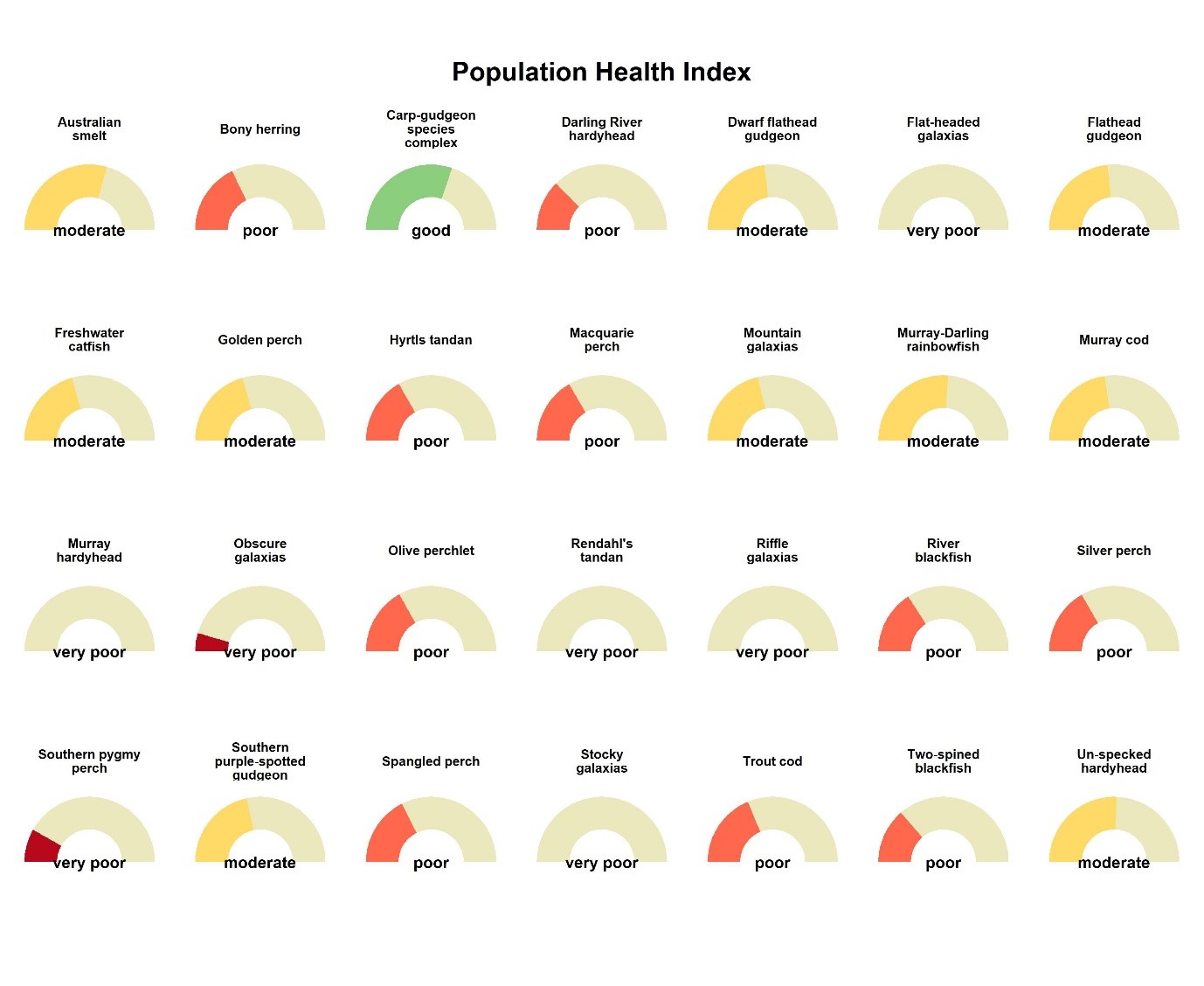 Source:
NSW DPI Fisheries
A good population health index (PHI) rating represents an overall improvement in general viability and resilience. In the Spotlight figure, only the carp-gudgeon species complex had a good PHI rating, meaning carp-gudgeons have a stable abundance, an improving distribution and adequate recruitment, and are in good individual condition.
Nine fish species had a moderate PHI rating, representing stable population health. The remaining 16 species (57%) were in poor or very poor population health, reflecting a substantial decline in one or more population health indicators and overall declining viability and resilience.
There are no PHI ratings for coastal fish species due to a lack of monitoring in coastal catchments.
Pressures
The decline in native fauna species is due to the cumulative impacts of threats such as vegetation clearing, habitat degradation and invasive species that prey on native animals and compete with them for habitat. Foxes and cats prey on native fauna on the mainland and introduced rodents affect species' survival on islands and on the mainland. Climate change is expected to be a major threat to the future survival of many species. Without significant action, climate change is expected to become one of the most significant of all the human induced pressures.
Responses
The NSW Government has streamlined and integrated legislation for biodiversity conservation and protection. The main measures to address the decline in biodiversity are:
conservation of native species in national parks and other reserves
the Biodiversity Conservation Trust which funds landowners to manage, protect and conserve biodiversity on private land and through biodiversity offsets
the Saving our Species program which aims to secure as many threatened species in the wild as possible
an expanded NSW Biodiversity Offsets scheme to facilitate ecologically sustainable development.
Locally extinct mammals are being reintroduced in carefully managed areas in national parks and reserves kept free of invasive species, with more reintroductions planned for 2021–23 (see Protected Areas and Conservation ).
There are opportunities to assess longer term impacts of legislative change on threatened species and their natural habitats, and to conserve threatened species on privately-owned land. There are also opportunities to continue to learn more about how Aboriginal cultures and practices improve the care, protection and management of species, their habitats and the overall environment. This includes qualitative data collection, oral stories and Aboriginal cultural knowledge.
Related topics: Threatened Species  | Invasive Species  | Native Vegetation  | River Health
Biodiversity refers to the full range of ecosystems, the species and populations they support and the genes they contain. It also encompasses the complex interactions between living organisms and the environment which provide the basis for a range of ecosystem services, and maintain the health and productivity of the land.
NSW has a rich biodiversity, much of which is recognised as being internationally significant.
It is not possible to monitor or report on biodiversity across its breadth ( Saunders et al. 1998 ) because of the limited data available and the sheer amount of biodiversity to be monitored. Most species are invertebrates or microorganisms, especially bacteria ( Larsen et al. 2017 ). The focus of this topic is therefore limited to describing the status of native fauna, in particular land-based vertebrate species (mammals, birds, reptiles and amphibians). See the Threatened Species  topic for a description of the status and prospects of native plants and animals listed as threatened in NSW.
A shrinking distribution is often the first indication that a species is declining in numbers. Declines in many species have been under way for decades or longer but have largely gone unrecorded. Over the past three decades, heightened awareness of the plight of native flora and fauna has revealed the extent of many of these declines and the threats that cause them.
For example, the eastern quoll ranged over most of eastern NSW but became locally extinct in the 1960s. Despite recent efforts to locally reintroduce eastern quolls in NSW, the species is currently found only in Tasmania.  
In western NSW, 24 species of mammals became locally extinct between European settlement in 1841 and Federation in 1901 ( Morton 1990 ; Lunney et al. 2000 ).
Much effort has gone into arresting declines that largely occurred before 1995 when the NSW Government recognised the need to formally protect native species. A focus on the extent of declines in species has in some cases overshadowed recent achievements in stabilising declines and recovering some species.
The status of species under threat varies regionally and across Australia. Some species lost from NSW, such as the pig-footed bandicoot, are extinct throughout Australia, while others, such as the numbat, are still found in other parts of Australia. Some species no longer exist on the mainland of NSW but survive on predator-free islands. The brush-tailed rock-wallaby is listed under both the Biodiversity Conservation Act 2016 and the Commonwealth Environment Protection and Biodiversity Conservation Act 1999, but is more threatened in Victoria than NSW. Conversely, the koala is threatened in NSW but not in Victoria, where it is regarded as over-abundant in some areas.
Listing of key threatening processes
Table 12.2: Key threatening processes listed in NSW, 2021
| Issue | Number of KTPs |
| --- | --- |
| Invasive species | 25 |
| Habitat change | 10 |
| Disease | 5 |
| Over-exploitation | 3 |
| Climate change | 2 |
| Altered fire regimes | 1 |
| Pollution | 1 |
| Total | 47 |
Notes:
As at 31 December 2020
Source:
DPIE data 2020
DPI data 2020
It should be noted that not all of these threats are equivalent in effect and the numbers are not necessarily indicative of the cumulative impact of any type of threat. For example, it is expected that over time climate change will become one of the most significant of all the threats described here.
Main threats to biodiversity and threatened species
When a species, population or ecological community is listed as threatened under the Biodiversity Conservation or Fisheries Management Act, the main pressures and threats affecting its conservation status are described in the listing. These threats were analysed for all threatened species listed at the time of analysis under the Threatened Species Conservation Act 1995, the predecessor to the current Biodiversity Conservation Act, to identify those that have the greatest impact on biodiversity and the environment in NSW ( Coutts-Smith & Downey 2006 ).
The pressures affecting the largest number of threatened species in NSW were found to be native vegetation clearing and permanent habitat losses (87%) followed by invasive pest and weed species (70%).
Permanent clearing and habitat destruction
The clearing of native vegetation results in the direct loss of species and destruction of habitat, followed by lag effects due to disturbance from subsequent land uses and the fragmentation of remnant vegetation. This in turn impedes regeneration and the movement of species across the landscape, leading to a loss of genetic diversity ( Cogger et al. 2007 ; Taylor & Dickman 2014 ).
The decline in habitat condition through clearing and fragmentation is described by three Biodiversity Indicator Program indicators for habitat quality – ecological condition, ecological connectivity and ecological carrying capacity. The baseline level of ecological carrying capacity remaining in 2013 was assessed at 33% of the natural levels before European settlement and 31% in 2020 following the Black Summer bushfires of 2019–20. These indicators are discussed further in the Native Vegetation  topic and the Biodiversity Outlook Report.
The Land Management and Biodiversity Conservation reforms commenced in August 2017 and theses reforms changed how native vegetation is managed across rural regulated land in NSW. The rate of permanent native vegetation clearing has significantly increased since this time (see  the Native Vegetation  topic). A Rural Boundary Clearing Code was also introduced in September 2021, giving landholders an option to clear certain vegetation within 25 metres of their landholding's boundary to reduce potential bushfire spread. This may further change the rural vegetation landscape.
Invasive species
Invasive species have contributed to the decline of many native species. Pest animals, particularly foxes and cats, are likely to have had the greatest impact on native fauna and are considered to be responsible for the majority of mammal extinctions on mainland NSW ( Morton 1990 ; Dickman 1996a ; Dickman 1996b ). Black rats had a similar effect on endemic bird species on Lord Howe Island, while introduced carp is now the predominant species in most rivers of the Murray–Darling Basin.
Climate change
As many Australian species are adapted to highly variable climates, they are likely to have the capacity to cope with a certain level of climate change. However, the resilience of many species has been eroded by other existing pressures, resulting in the declines in numbers and range described in this and the Threatened Species topic. Climate change is expected to exacerbate the effects of existing threats and introduce additional pressures ( Steffen et al. 2009 ; DECCW 2010a ; Hughes 2011 ). Climate change is likely to surpass habitat destruction as the greatest global threat to biodiversity over coming decades ( Leadley et al. 2010 ). For further information see the Climate Change  topic.
Other threats
Water extraction and altered river flows and cycles affect the critical ecological processes that trigger breeding in a range of aquatic and bird species (see the River Health  topic), while altered fire regimes impact the ability of plant species and communities to regenerate or repropagate.
Most of the main threats to biodiversity in NSW are described in greater detail in other sections of this report, including:
clearing, fragmentation and the disturbance of native vegetation (see
)
the introduction and spread of invasive species – pests, weeds, diseases and pathogens (see
)
lack of groundcover retention such as by overgrazing (see
)
water extraction and changes to river flows (see
)
increasing populations and expanding human settlements (see
)
the increasing impacts of climate change (see
)
altered fire regimes due to European settlement and climate change (see
).
Threats not dealt with specifically in other sections of this report include:
the indirect impacts of development, particularly in new areas where high rates of mortality and injury to wildlife can occur
disturbance to behaviour and breeding cycles from infrastructure, noise and lighting (
).
It should be noted that many of these threats can operate together to have a cumulative impact and hasten the decline of species and communities. Sometimes these impacts may be synergistic, where the cumulative impact is greater than the sum of the individual pressures ( Raffaele et al. 2011 ; Goldman Martone & Wasson 2008 ; Simberloff & Von Holle 1999 ).
Lack of information
It is unrealistic to expect that a full range of biodiversity could ever be monitored systematically with the resources available. Compared to plants and mammals, there is much to learn of the taxonomy of insects, fungi, and algae. Much of this taxonomic work is done by museum and herbarium-based taxonomists, and is generally underfunded. The ongoing challenge, therefore, is to optimise the collection of the information necessary to manage biodiversity as effectively as possible.
Although knowledge of the conservation status of species has improved markedly over the past 20 years, especially the distribution and abundance of land-based vertebrates, less is known about other groups. Patterns of decline that are likely to have been present for many years are still being discovered in the less well-studied groups of species. For most invertebrates, microorganisms and many plant groups which comprise the vast majority of species, information exists for only a few isolated species and this provides little insight into the broader status and management needs of these groups.
The 2014 Independent Biodiversity Legislation Review panel recommended the development of a comprehensive system for monitoring and reporting on the extent and quality of biodiversity in NSW ( Byron et al. 2014 ). In response, the Biodiversity Indicator Program was established in 2017 to collect, monitor and assess information on the status and trends in biodiversity in NSW. The results of the first NSW Biodiversity Outlook Report were published in February 2020 and are summarised above in this topic and the Native Vegetation  topic. A Forest Monitoring and Improvement Program (FMIP) established and overseen by the Natural Resources Commission has been established as part of the Regional Forest Agreement renewal process.
Legislation and policy
Biodiversity Conservation Act 2016
Following the Independent Biodiversity Legislation Review, sweeping reforms were made to the legislative framework for land management and biodiversity conservation, taking effect from August 2017. Biodiversity legislation in NSW was consolidated under the Biodiversity Conservation Act 2016, which replaced the Threatened Species Conservation Act 1995, Nature Conservation Trust Act 2001 and the plant and animal provisions of the National Parks and Wildlife Act 1974. A new rural land management framework was also introduced with the Local Land Services Amendment Act 2016. The framework for regulating impacts on native vegetation from rural land management activities applies a risk-based approach to authorising clearing (see Native Vegetation  topic for more information). This replaced the Native Vegetation Act 2003, which, as one of its objectives, was put in place to prevent broadscale clearing except where it improved or maintained environmental outcomes.
Protections for aquatic and marine species remain in the Fisheries Management Act 1994. Amendments to the Act are still being progressed to make this legislation consistent with the Biodiversity Conservation Act and the Common Assessment Method for national listing of threatened species.
Policy and guidelines for fish habitat conservation and management
In 2013, an updated policy and guidelines were published to maintain and enhance the habitat of native fish species (including threatened species) in the marine, estuarine and freshwater environments ( DPI 2013 ).
Programs
Saving our Species program
Saving our Species (SoS) is a ground-breaking statewide conservation program that addresses a number of plants and animals in NSW facing extinction. The objectives of SoS are to:
increase the number of threatened species that are secure in the wild for the next 100 years
control the key threats facing our threatened plants and animals.
The program is driven by a framework that:
uses a science-based approach to plan and prioritise the actions needed to conserve each species in the wild for the next 100 years by producing practical management strategies for each site
provides increased opportunities to work with partners in the community, including the private sector and Aboriginal people, to deliver effective work on the ground
drives evaluation and transparent public reporting through rigorous monitoring and evaluation that ensures threatened species recovery is driven by the best available science.
Under Saving our Species, every threatened species project falls into one of nine management streams that groups together species based on their ecology and management requirements. Each management stream has a specific objective, performance indicators and a monitoring approach to ensure achievement of outcomes.
The nine management streams are as follows:
Site-managed species are those for which discrete populations can be geographically defined and critical threats identified and feasibly managed and where mitigation of these threats at a selection of sites is likely to secure the species in NSW in the long term.
Landscape species are typically widely distributed, highly mobile or dispersed, and best recovered by managing threats associated with habitat loss or degradation at a landscape scale.
Iconic species: Species in the iconic stream are important to the community socially, culturally and economically and there are high expectations for their effective ecological management. Iconic species, are able to leverage support for SoS from the wider community, through their role as flagship species for the program.
Partnership species are animals and plants listed as threatened in NSW that have less than 10% of their total distribution in the state. As partnership species occur across state or territory borders, the best way to conserve them is to work with other jurisdictions.
Data-deficient species: Species are allocated to the data-deficient management stream when there is insufficient knowledge about their ecology, distribution, threats or management needs to inform an effective management strategy. Typically, data-deficient species need investment in targeted research or surveys to fill these knowledge gaps and determine the best approach to on-ground management.
Keep watch species: The SoS program allocates species to this stream where strong quantitative evidence shows the species populations are secure without targeted investment in management. Strategies for keep watch species include monitoring actions only to ensure populations remain stable or improve and identify potential new and/or emerging threats to the security of the species.
Threatened ecological communities: An ecological community is a naturally occurring collection of native plants, animals and other organisms occupying a particular area. Where ecological communities are threatened, SoS works to guide stakeholder investment in broad-scale reserve planning, restoration, revegetation, increasing habitat connectivity, private land stewardship and land management, as well as more targeted on-ground activities.
Key threatening processes are a focal point for SoS as they drive the extinction of species and ecological communities. Some of the most destructive key threatening processes (KTPs) in NSW are pests and weeds, climate change and habitat loss. In managing KTPs, threat abatement is fundamental to ensuring the long-term viability of threatened species and ecological communities.
Threatened populations: A threatened population is a group of plants or animals of the same species occupying a particular area that is listed in the legislation as likely to become extinct in the near future. Because threatened populations are geographically discrete, critical threats can be managed at priority sites to secure a threatened population in the long term.
For each listed species, ecological community and key threatening process, Saving our Species develops a conservation strategy which lists the critical sites, threats and actions needed to secure a species in the wild. These strategies guide the work on the ground to manage and restore the 369 species, 15 key threatening processes and 40 threatened ecological communities covered by the program.
SoS outcomes are discussed in the Status and Trends section of this topic.
Reintroduction of locally extinct mammals
Since 2016, the NSW National Parks and Wildlife Service has been working with the Australian Wildlife Conservancy (AWC) and the University of New South Wales (Wild Deserts) to reintroduce up to 13 locally extinct mammal species into three national park reserves. The NSW Government has committed $41.3 million over 10 years towards this feral-predator free area partnership project, part of the Saving our Species program.
As part of this project, fenced areas have already been established at Sturt National Park, Mallee Cliffs National Park and the Pilliga State Conservation Area. As of December 2021, feral-free fences are protecting just under 20,000 hectares and eight mammal species have been reintroduced. 
On 18 December 2020, the NSW Government announced the establishment of four new feral predator-free areas.
The extended project proposes one of the most significant threatened fauna restoration projects in NSW history, enabling the reintroduction of 28 locally extinct species (23 of them threatened) and delivering a measurable conservation benefit for at least another 30 threatened species which, in turn, will help restore essential ecosystem function and processes (see the Protected Areas and Conservation  topic).
Wildlife licensing
The Biodiversity Conservation Act established a risk-based approach to managing wildlife actions through a tiered framework that:
permits low-risk activities through Biodiversity Conservation Regulations
allows moderate risk activities under a code of practice
ensures high-risk activities will continue to require a licence
provides for actions that have direct impacts on biodiversity, including threatened species, to be treated as offences under the Biodiversity Conservation Act.
The NSW Government is consulting with stakeholders to identify which actions should continue to require licensing and which should be regulated by codes of practice and regulations.
Identifying areas of outstanding biodiversity value
The Biodiversity Conservation Act 2016 enables the Minister for the Environment to declare Areas of Outstanding Biodiversity Value (AOBVs). These are special areas that contain irreplaceable biodiversity values that are important to the whole of NSW, Australia or globally. The purpose of declaring an AOBV is to identify, highlight and effectively conserve areas that make significant contributions to the persistence of biodiversity. See Native Vegetation  topic.
Existing areas of declared critical habitat under the repealed Threatened Species Conservation Act (Wollemi pine and little penguin habitats) became AOBVs when the Biodiversity Conservation Act took effect.
Listing of threatened species and communities
The Biodiversity Conservation Act modernised the process for listing threatened plants and animals. It aligns threat categories with international best practice and provides greater coordination between Australian jurisdictions. The Biodiversity Conservation Regulations prescribe criteria for listing threatened plants and animals which align with standards developed by the International Union for Conservation of Nature.
The Commonwealth, state and territory governments agreed to establish a common method for assessing and listing threatened species. In NSW, a Threatened Species Scientific Committee, established under the Biodiversity Conservation Act 2016, is an independent committee of scientists appointed by the Minister for the Environment to consider listing threatened species and communities. For example, the committee assesses the risk of extinction of a species in Australia and determines which species should be listed as critically endangered, endangered, vulnerable or extinct in NSW.
The process of aligning assessment and listing under a common method is ongoing. It will reduce duplication of effort among governments by allowing jurisdictions to adopt successful listing assessments by other jurisdictions and lead to better conservation outcomes for Australia's species.
NSW public reserves system
The public reserves system is the cornerstone of conservation efforts in NSW. It plays a vital role in protecting habitat and provides a refuge for many threatened species that are sensitive to habitat disturbance.
The NSW public reserves system covers around 7.56 million hectares or about 9.4% of the state (see the Protected Areas and Conservation  topic). It conserves representative areas of most habitats and ecosystems and the majority of NSW plant and animal species are found in the public reserve system. The Biodiversity Conservation Act adopted an increased focus on conservation measures on private land to supplement land managed for conservation in the public reserve system.
NSW Koala Strategy
The NSW Government recognises the koala as an iconic threatened species and is committed to stabilising and increasing its populations across NSW. In May 2018, the government released the NSW Koala Strategy, committing $44.7 million towards securing the future of koalas in the wild. The strategy supports a range of conservation actions over three years.
The strategy was a response to the Independent Review into the Decline of Koala Populations in Key Areas of NSW ( NSW Chief Scientist and Engineer 2016 ), which recommended a whole-of-government koala strategy for NSW. An expert advisory committee chaired by the NSW Chief Scientist and Engineer guided the strategy's development along with extensive community and stakeholder consultation.
Components of the NSW Koala Strategy include:
$20 million from the NSW Environmental Trust to purchase and permanently conserve land that contains priority koala habitat in the national park estate
$3 million to build a new koala hospital at Port Stephens
$3.3 million to fix priority road-kill hotspots across NSW
$4.5 million to improve the care of sick or injured koalas
$6.9 million to improve knowledge about koalas, starting with the development of a statewide koala habitat information base
$5 million to deliver local actions to protect koala populations, including through the Saving our Species program
$2 million to research impacts of natural hazards and weather events on koalas.
Management and control of invasive species
Once established, the eradication of invasive species is seldom feasible. Therefore, control of some high-priority invasive species, such as foxes and bitou bush, is specifically targeted at sites of high conservation value. Control is delivered through threat abatement plans which facilitate whole-of-government coordination across agencies and local authorities.
Broad-scale rabbit control is being provided through the release of rabbit haemorrhagic disease, while rats, mice and rabbits have been eradicated from some NSW islands. Local Land Services is responsible for identifying priority weeds regionally and developing programs to manage them (see the Invasive Species  topic).
Adaptation to climate change
Priorities for Biodiversity Adaptation to Climate Change ( DECCW 2010b ) was produced in response to the listing of anthropogenic climate change as a key threatening process under the Biodiversity Conservation Act. This identifies priority measures for dealing with the effects of climate change, focusing on four key areas:
enhancing understanding of the likely responses of biodiversity to climate change and readjusting management programs where necessary
protecting a diverse range of habitats by building a comprehensive, adequate and representative public reserve system in NSW, with a focus on under-represented bioregions
increasing opportunities for species to move across the landscape by working with partners and the community to protect habitat and increase connectivity by consolidating areas of vegetation in good condition
assessing adaptation options for ecosystems most at risk from climate change in NSW.
A key threatening processes strategy has been prepared for the SoS program, that includes adaptation processes in response to climate change following the listing of Climate change as a KTP.
The AdaptNSW website provides comprehensive climate change information, analysis and data to support action to address climate change risks and capture opportunities. It includes information on the causes of climate change and the likely impacts on biodiversity. For further information see the Climate Change  topic.
Future opportunities
Conservation of threatened species outside the reserve system is a field of growing importance. Measures to improve connectivity across landscapes and build the health and resilience of the land will enhance the capacity of species and ecosystems to adapt to, and cope with, disturbance.
More information about the factors contributing to the resilience or success of some native species and processes, in contrast to the declines of many others, may assist in efforts to maintain sustainable populations of flora and fauna species.
The NSW Government will conduct a statutory five-year review of the land management and biodiversity conservation framework commencing in 2022. This will be an opportunity to assess impacts of recent legislative change on threatened species and their native vegetation habitats, and assist in planning future responses and safeguards to protect threatened species and ecological communities.
Monitoring ways in which management actions, particularly those funded through Saving Our Species, increase populations and survival of threatened species, would provide much needed information on best conservation practices.
There is scope to introduce significant qualitative data on Aboriginal cultural species to understand how significant cultural species are faring and ways to care for them and their habitats. Qualitative data collection includes oral stories and knowledge about Aboriginal culture and practises. The EPA Aboriginal Knowledge Group has identified a need for management authorities to learn more and apply how Aboriginal cultures and practices improve the care, protection and management of species, their habitats and the overall environment, and that support for this remerging research and understanding is essential for all aspects of environmental health.